[BLOG] A Black Film Renaissance, Or A Step Backward For Black Actors?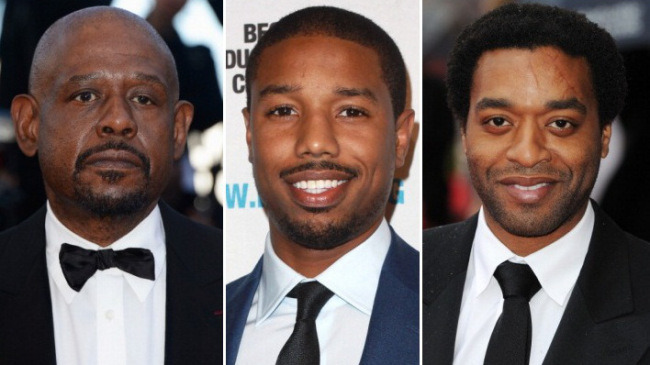 I stumbled across this well written and insightful article this morning and I just HAD to post it. Check it out below.
Huffington Post Entertainment Editor Kia Makarechi is absolutely right to title his well-intentioned piece "Hollywood's 'Race Problem' Is Worse Than You Think."
In it, Makarechi discusses the stark reality behind the possibility that Chiwetal Ejiofor (12 Years a Slave), Idris Elba (Mandela: Long Walk to Freedom), Michael B. Jordan (Fruitvale Station) and Forest Whitaker (Lee Daniel's The Butler) could all be nominated for the Academy Award for Best Actor.
While it is certainly good news that Ejiofor, Elba, Jordan and Whitaker are indeed on the tongues of Hollywood's top critics for nominations, it is, according to Makarechi, bittersweet. For Makarechi, the roles for which these men are garnering praise are ones that "have to be played by black actors" and that, for Makarechi, indicates no true progression in Hollywood.
Makarechi argues that "the fact that [black actors are] generally only rewarded for roles that literally could not be given to white actors is cause for concern." Breaking it down further, he writes, "A study of the roles that have earned black men Best Actor nominations reveals that this is a historical problem."
Sidney Poitier's character in the novel behind the movie Lilies of the Field, for example, had to be black, he notes. So did Ray Charles, for which Jamie Foxx won his Oscar, and Idi Amin, Uganda's third president, for which Forest Whitaker won his Oscar. Of course, the notable exception is Denzel Washington for Training Day.
The rest of the article can be read here : http://thegrio.com/2013/10/04/a-black-film-renaissance-or-a-step-backward-for-black-actors/
The points made in the article ring so true, I am MORE than happy that our Black Actors are getting the recognition they deserve (hell I'm a black actor so it means the world to me) but are we really progressing by being nominated for roles that only we can play? I mean obviously a white actor can't star as a slave turned Butler, or as a person who was enslaved for 12years so the roles must be casted by black actors. And the question on my mind is, to hollywood…is this all we're great at? Portraying historical black figures, slaves, crime kings, drug addicts, and horrible parents on screen?
This is not to say that those actors are more than talented and did ONE HELL of a job playing their roles. And to say it isn't hard because "they're black" would be a slap in the face. I look at it in another light, we'll always be needed, because no one can be us. What are your thoughts? Share them in the comment box below.
-Shaun