[BLOG] Gotham Awards: Michael B. Jordan and Shailene Woodley Glowing In The Indie-Film Spotlight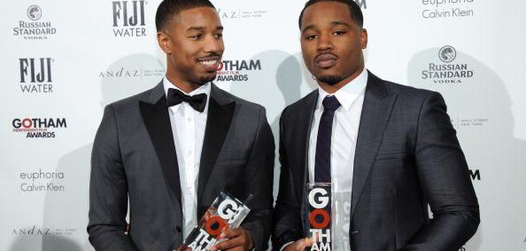 Some of the biggest names in independent film stepped out in Manhattan Monday night for the 2013 Gotham Awards, one of the first major trophy-fests of the season.
Michael B. Jordan won the Breakthrough Actor award for his role in Fruitvale Station and said that he was encouraged by the box-office success of African-American-led films like Fruitvale, Lee Daniels' The Butler and 12 Years a Slave.
"I think it's amazing and if they keep doing well, you might see more of those stories," Jordan told THR. "You might see more black filmmakers emerge and tell stories they want to tell, not just about African-American subjects, but they can be about anything. If the studios continue to take chances and risks and fund films by African-Americans, I think people will go see them. Hopefully it will get easier as time goes on."
Michael B. Jordan has had an amazing year and I'm so very proud of him! This man's future knows no bounds! Can't wait to see what he has in store for 2014.
Shailene Woodley  was nominated for Best Actress for her work in the 'Spectacular Now' and also said she was proud to be there supporting the film.
"It was so hard to get it made, and it took so many years to get it made so now that it finally is out into the world…it feels really rewarding when you work really, really hard to complete something and then other people respond to it," Woodley told THR. "You don't really make movies for other people but then when other people sort of share the love that you have for that movie, it feels really special, like you're sharing a really great gift."
Having already been through one awards season with The Descendants, Woodley said she's learned to just have fun. "I feel like people constantly sort of complain about awards season and it can be really grueling at times but it's fun, and we're so lucky to do what we do," she said.
Shailene also said she was excited about her upcoming project which is the movie version of The Fault in Our Stars, saying "I don't think I've ever been more passionate about a project."
Well Shailene, we too are excited about your next project! It seems as if last night was a night to remember here in New York City. Congrats to all the winners and nominees!